Systemd Init System

Apr 22, 2020

Aug 3, 2019
IMAGE GALLERY (1)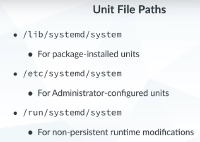 D-BUS

S/w bus for communication b/w processes using IPC and RPC
D-bus wire protocol allows connection b/w various processes using unix domain sockets
:1.1557 unique process address
How to configure network using systemd?
systemd uses networkd to configure netwrok interfaces.
Configuration file path /etc/systemd/network/dhcp.network
init system for linux
System and service Manager

runs PID 1
Replaces runlevels
controls machine boot
recplaces lots of shell scripts for system boot

Software platform for developing other apps
Glue between user and kernel spacce applications
Resources are called Units, it manages them in dependency graph.

Seperate bootstrap scripts one-shot applications on various cloud environments.

[Match]
Name=en*

[Network]
Address=192.168.0.15/24
Gateway=192.168.0.1
# OR
DHCP=yes

notify-send

send alerts from terminal commands/scripts
Timedate control
systemd manages timesyncd daemon which requires linux user and group by name systemd-timesync to be present on system. It synchronizes system clock across the network
timedatectl list-timezones

set system time and zone settings
timedatectl status

/var/lib/systemd/clock

This file contains the timestamp of the last successful synchronization.

systemctl status systemd-timedated.service
bat /lib/systemd/system/systemd-timedated.service

localectl
timedatectl status

Disable timwsyncd service in yocto
To disable timesyncd in your Yocto build, create a *.bbappend recipe in your own layer called
recipes-core/systemd/systemd_216.bbappend
And add the following content

PACKAGECONFIG[timesyncd] = "--enable-timesyncd,--disable-timesyncd,timesyncd"

PACKAGECONFIG_remove = "timesyncd"

Systemd vs Supervisord
Let's say I have a Django application named Foo. I want to be sure Foo is running all the time, even if it crashes. Also, I want a simple interface to start, stop and restart its process. Supervisord is a perfect match for this job.
Process Monitoring
systemd has not, like controlling services with a web interface
Project Cockpit1 interactive server admin interface
Cockpit uses systemd and the DBus APIs it provides to configure and monitor core aspects of the system.
[Unit] Description="Foo web application" After=network.target [Service] User=foo Group=foo Environment=LANG=en_US.UTF-8,LC_ALL=en_US.UTF-8 ExecStart=/home/foo/bin/start_foo [Install] WantedBy=multi-user.target
LC_ALL: cannot change locale
sudo locale-check
sudo locale -a
sudo locale-gen en_US
sudo update-locale LANG=en_US

Footnotes