Insulin and FAT loss

Apr 22, 2020

May 30, 2019
IMAGE GALLERY (2)
Losing weight is unnatural for body. Weight is a survival mechanism
Insulin
Insulin blocks any chance of burning fat. It makes us fat It blocks release of fat INSULIN is also known as the FAT-STORING Hormone Even in the presence of little bit of Insulin, all FAT burning hormones are shut down.
How does it work?
Pancreas is located below the left rib-cage.
It has alpha, beta and delta cells
Beta cells in Pancreas makes Insulin
functions of Insulin
Lowers sugar
affects fats and proteins and hence the overall Metabolism
Insulin converts sugar to Cholestrol and triglycerides (blood fat). Which increases tension in arteries and increases Blood Pressure
retains sodium
Drives proteins / amino acids into cells
Insulin Spike
is triggered by Carbohydrates

[Bread + Sugar] = Glycogen + Fat

may lead to Insulin Resistance or Fatty Liver
What causes Insulin Resistance
Excessive sugars
some proteins
Estrogen (women growing fatter after pregnency)
Insulin Resistance symptoms
bad vision specially in low light
Brain Fogs
How to lower insulin?
Apple cider vinegar ACV
Fermented food like sauerkraut
Vegitables
Fibre
Pure fats (satiety longer without having to eat + no insulin)
Sleep and Exercise
Information!
Eat only when you are hungry.
Glycemic Index - Food that triggers sugar
Insulin Index - that triggers insulin
Dangerous Foods
| Worst Food | GMO Content |
| --- | --- |
| Corn | 85% GMO |
| Soy | 93% GMO |
Why are they MOST dangerous foods?
GMO Genetically Modified Organism alteration of food resistant to weed-killers.
Get healthy to loose WEIGHT. Get healthy first and then loose weight. Fat is a symptom, not a cause Your food is only as healthy as the SOIL it grows on. Insulin prevents from loosing weight.
~~~Dr Eric Berg
What lowers Insulin
Low carbohydrate intake
Avoid Protein + Sugar like

(bread + meat)
hot and sour chicken chinese food
Hamburger with bun and fries and coke

Low fat proteins
MSG Mono Sodium Glutamate

usually present in fast-foods
can spike insulin level ~by 200%

stress
too frequent meals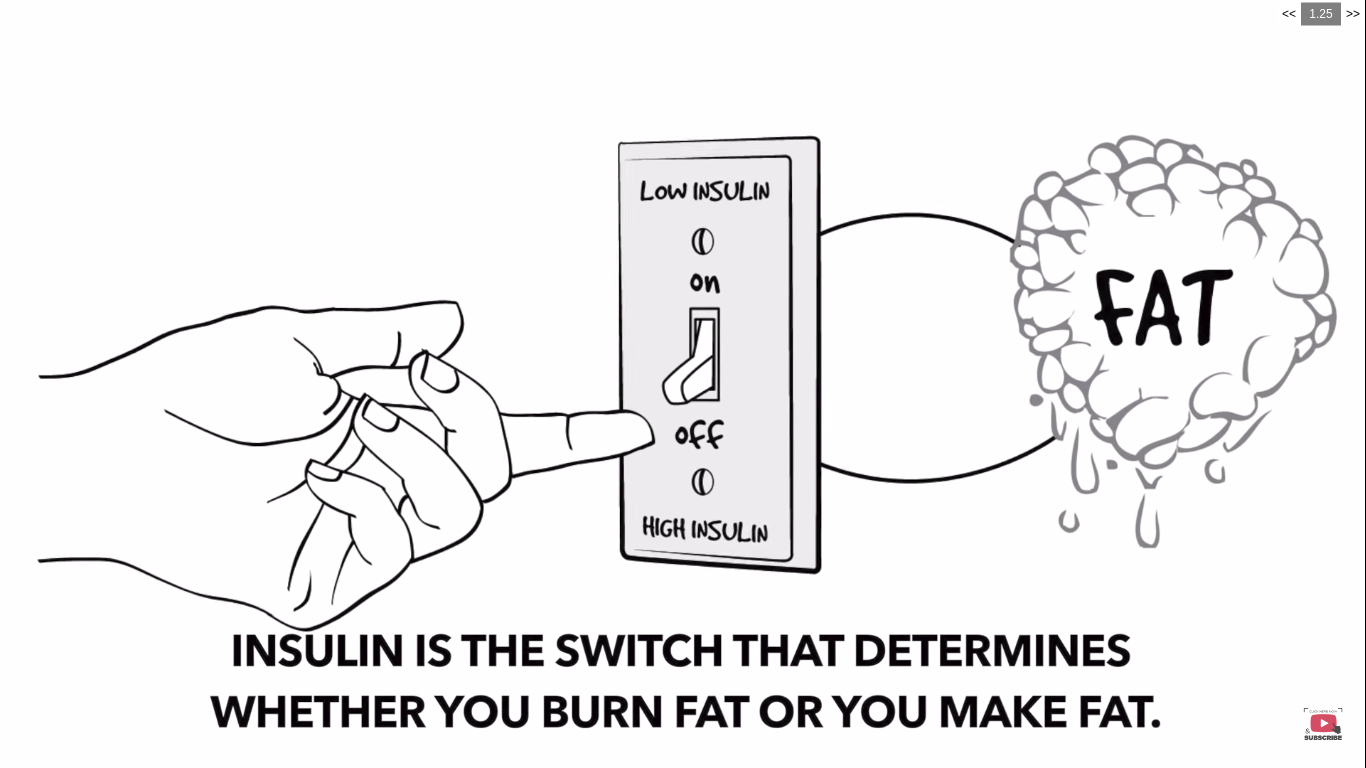 Reference