Mobile Development

May 6, 2020

Mar 23, 2020
IMAGE GALLERY (1)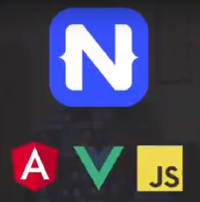 markup language

that uses tags
How to make a Mobile App? Mobile Developer?
Use a framework to build app for both iOS and Android
Vue Native

Wrapper which compiles to React Native
It is used to develop applications for Android, iOS, Web and UWP (Universal Windows Platform)

Install android SDK sudo android update sdk -u
Install android studio
Mobile developers have to worry about additional things like

Android back button
Up action bar buttons
apt-get install libatk-adaptor libgail-common


Mobile Development Frameworks
None of them uses Java (android) or Swift (iOS), crossplatform development. Compiles framework code to native Java/Swift code
Reactive Native

react language

Flutter

dart language
compiled down to ARM C/C++ Library

NativeScript

vanilla js and typescript

Ionic

uses javascrip
Build normal webApp
Airbnb stopped using react-native
Alibaba and google are using Flutter *
Nativescript
Vue Native is a framework to build cross platform native mobile apps using JavaScript
Buttersmooth animations
Nativescript markup will look little different from that of web development
web app and mobile app
Nativescript-vue
NativeScript-Vue is a NativeScript plugin which allows you to use Vue.js to craft your mobile application.
Code sharing App b/w mobile and web
Bootstraping the vue instance little differently
Build app using vue, angular or plain JS code
Code scaffolding with router and vuex
2 main.js file, webpack will pick right one depending on build

main.ja for
main.native.js
due to different strategies, as mobile has no DOM

2 templates - template web/native

Completely differne experience for ios and android or same

Standard router is not supported in native vie app
js upto 2 decimal point .toFixed()
Use pretty filters to format date-time using moment.js
npm install -g nativescript
nativescript --help
tns help
tnf create --template nativescript-vue-template ns-project-name
tns create HelloWorld --template tns-template-blank
tns create ns-hello-world
# choose from angularJs, VueJs, normal JS
tns run ios / tns preview


Mobile Web vs mobile Apps?
Apps can use device capabilities like camera, sound, sensor data etc
Engaging mobile applications
Framework for building cross-platform mobile apps
Built using javascript to languages which tranpiles to js like typescript
Can use npm packages
Similar to react-native except we get to code in js instead of react
Why use vue to build mobile apps?

Adoption of virtual DOM enables native mobile rendering
its lightweight
Nativescript and vue have great code-sharing potential
can share upto 70% of code

NS is a custom implementation of vue, there are some differences

import vue from 'nativescript-vue'
Bootstaap differently from a vue web app
NS have different markup layout than vuetify
templates are different

tns commands

will instal ios and andriods packages
search for emulators
router is a big problems when vuilding for mobiles

Firebase Authentication, and firebase backend
How to deploy to AppStore, Playstore, what funny stuff you got to do for this?

Grab apk compiled by NS, post it to AppScript
Sidekick Tooling - build for iOS in cloud then deploy to store

Should we use NS to build PWA?
Resources
Footnotes